Bill Post shares stories of Middletown with historical society
Send a link to a friend
[July 17, 2012] Monday evening, Bill Post of the Middletown Historical Society gave an interesting talk about Middletown and its connection with Abraham Lincoln. The occasion was a meeting of the Logan County Genealogical and Historical Society at the group's building on Chicago Street, across from the Lincoln Depot.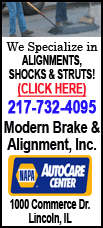 Post said Middletown was founded in 1832, making it the oldest existing town in Logan County. He spoke of Logan County's oldest brick building (circa 1840), which has been restored and now houses the Middletown Historical Society.

He reported that Logan County surveyor John Calhoun asked Abraham Lincoln to be the county's deputy surveyor for the Musick Ferry crossing project, one mile north of Middletown.

Middletown, as its name suggests, lies halfway between Springfield and Peoria and is reported to have once been considered as a place for the capital of Illinois. Post read from documents indicating that Abraham Lincoln traveled the road from Springfield to Peoria many times and would stay over at the Middletown Stage Coach Inn, which also has been restored and is open for visits. Both the Middletown Historical Society and Stage Coach Inn buildings are Illinois State Historic Sites.

Post mentioned several additional events that have occurred over the years in and around Middletown -- one being the unexpected landing of the Vin Fiz, a privately purchased Wright Brothers biplane, in 1911, during a transcontinental flight from New York to Long Beach, Calif.

Although the Vin Fiz failed to win the $50,000 prize offered by publisher William Randolph Hearst for accomplishing the feat in 30 days or less, it nevertheless set several records.

Another record-setting event in Middletown occurred with hot-air balloons.

Following the program, refreshments were served.
At the group's next meeting, on Aug. 20, a speaker from Beardstown will talk about the Beardstown Courthouse, which is the oldest still-existing courthouse in which Abraham Lincoln practiced law and was the site of Lincoln's "Almanac Trial."
The Logan County Genealogical & Historical Society has a new website, now available at www.logancoil-genhist.org.
[By PHIL BERTONI]